Madison Consolidated High School


Class of 1991
In Memory
Kim Anderson (Phillips)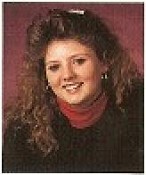 Kimberly Jo Phillips, 31, of Virginia Beach, Va., formerly of Madison, died Tuesday, Jan. 7, 2003, at her residence.

She was born Nov. 16, 1971, in Madison, the daughter of Charles F. and Carolyn Sue Whicker Anderson. She was employed as an office manager at Burton's Enterprises in Virginia Beach. She had attended Kent Christian Church.

Surviving are her husband, Ronald N. Phillips; one daughter, Brooklynn Phillips, and one son, Bradley Phillips, both at home; her mother and stepfather, Sue and Rick Armand, both of North Vernon; her father and stepmother, Charles and Susan Anderson, both of Lexington; two sisters, Stacy Anderson and Shari Little, both of Lexington; one brother, Tim Anderson, of Lexington; her grandmothers, Ethel Whicker of Hanover and Margaret Sommer of Madison; three nephews; and several aunts, uncles and cousins.

She was preceded in death by her grandparents, James and Elva Anderson, Farris Whicker and Raymond Sommer; and several aunts and uncles.