Madison Consolidated High School


Class of 1991
In Memory
Shaheen Jassat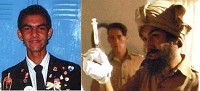 Shaheen Jassat, 31, of Zimbabwe, Africa, died February 1999, in his native country.

Shaheen was well known in his country and was considered a celebrity. He became an actor and had a repeat role on a TV-series called ("Heat of the Night"). He played Sub Inspector Singh.

He came to Madison as an exchange student in January 1991 and stayed until December.