Madison Consolidated High School


Class of 1991
In Memory
Dawn Johnson (Reed)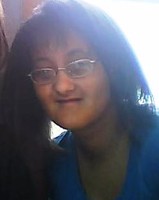 Let Us Pause To Honor the Memory of
Mrs. Dawn Lori Johnson Reed

Mrs. Dawn Lori Johnson Reed, age 44, of Madison, Indiana entered this life on September 25, 1971 in Madison, Indiana. She was the loving daughter of Carolyn Johnson. She was a 1990 graduate of Madison Consolidated High School and was a member of the Christ Temple Apostolic Church in downtown Madison. She had enjoyed participating in the Brownies and in the Girls Club. Dawn had worked with U.S. Shoe Corporation, the Waters of Clifty Falls and the Dollar General Store. On July 20, 1992 she was united in marriage to Gregory Paul Reed in Carrollton, Kentucky. This happy union of twenty three years was blessed with two daughters, Anja and Angel. Dawn enjoyed watching the Kentucky Wildcats and the Dallas Cowboys, listening to music, reading, movies and games. Dawn died on Sunday, November 15, 2015, at 5:18 a.m. in Indianapolis, Indiana.

A LOVING FAMILY Dawn will be missed by her loving husband of twenty three years, Gregory Paul Reed of Madison, Indiana; her loving daughters, Anja Lee Reed and her companion, Chris Champ of Indianapolis, Indiana, Angel Anna Reed of Madison, Indiana; her mother, Carolyn Johnson of Madison, Indiana; her sisters in law and brothers in law, Carol Gammons and her husband, Noel of Lexington, Indiana; three her sisters in law and brothers in laws, Kevin Dale Reed and his wife, Rebecca of Bear Branch, Indiana, Catherine West of Orlando, Florida, Melissa Hatchell and her husband, Jerry Wayne of Hanover, Indiana; her mother in law, Minnie Joyce Reed of Carrollton, Kentucky; several nieces, nephews, cousins and other relatives. She was preceded in death by her aunt, Nancy Todd.

FUNERAL CEREMONY Funeral services will be conducted Thursday, November 19, 2015, at 1:30 p.m., by Pastor Frank McGee at the Morgan & Nay Funeral Centre, 325 Demaree Drive in Madison, Indiana. Interment will follow in the Grandview Memorial Gardens,9306 North US 421 near Madison, Indiana.

https://vimeopro.com/user13719879/dawn-lori-johnson-reed