Madison Consolidated High School


Class of 1991
In Memory
Donald Morris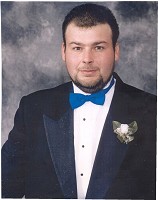 Donald Troy "Donnie" Morris, 29, of 9459 Brushy Fork Church Road, Canaan, died Wednesday, July 4, 2001, at his home.

He was born Feb. 17, 1972, in Madison, the son of Virgil and Alice G. Geyman Morris. He was a lifelong resident of the Canaan community, and was employed as a logger with DCD Logging Co. of Canaan. He was a former Arvin-Sango employee. He was a member of the Catholic faith, having attended the former St. Anthony Catholic Church in China.

Surviving are his wife, Dawn K. Richards Morris; two sons, Robert C. Turner and Derance W. Richards, both at home; his mother and stepfather, Alice Geyman Morris and Bobby Morris, of Canaan; one sister, Patricia Whitham of Madison; one brother, Billy Morris of Madison; eight half sisters, Mary Meek of Indianapolis, Aggie Hunter of Bedford, Ky., Bernadette Napier of Dupont, Gert Hendricks of Cincinnati, Glenna Yount of Scott Air Force Base, Belleville, Ill., Nancy Jackson of Canaan, Theressa Herring of Canaan and Bertha Bromley of Collinsville, Ill.; six half brothers, Dave and Jim Stephan, both of Madison, Alois, Dan, John and George Stephan, all of Canaan; two stepbrothers, Johnny Ray Morris of Anderson and Carl Robert Morris of North Vernon; and several aunts, uncles, nieces, nephews and cousins.

He was preceded in death by his father, Nov. 12, 1991; his grandparents, Henry and Dicie Morris, and Allie and Agnes Geyman; and one nephew.